I admit it. I rarely venture from King St when I dine in Newtown. It's a little closed-minded of me, I know but given the overabundance of choices on the main strip, I've never had the urge to wander. Black Star Pastry was my first foray into the urban unknown.
Nestled into the nook at the end of Australia street, I've walked past Black Star Pastry a thousand times. It was only after the numerous and fervent recommendations of their Strawberry and Watermelon Cake, however, did I finally concede to head down that way.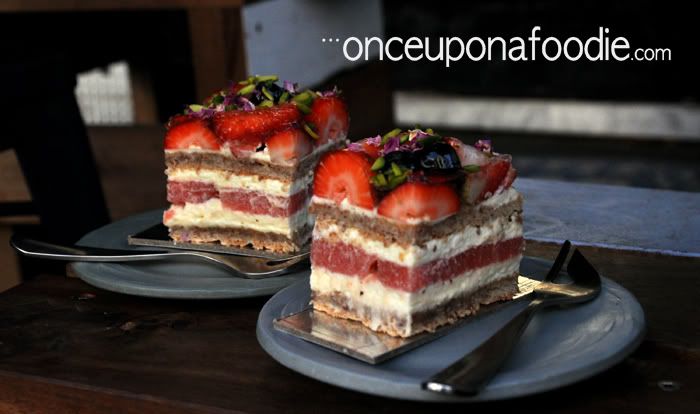 Strawberry and Watermelon Cake ($6)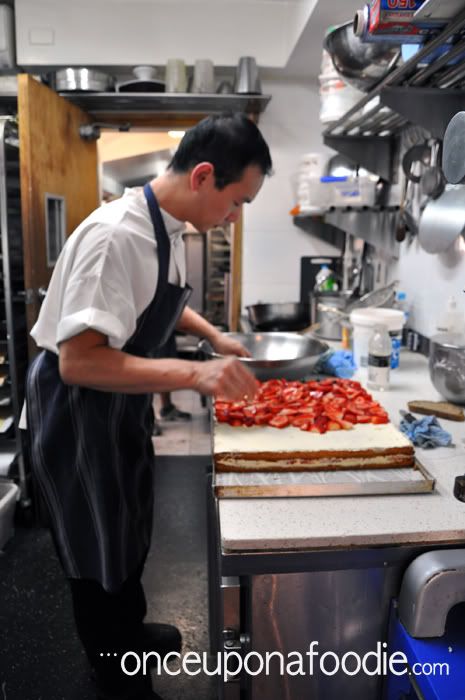 Sneaking a pic of a cake in the making
The cake is a darling of foodies the city over and here's my take: It's great. The cake is light and refreshing. I appreciate the delicate balance of complementary flavours and the subtle aroma of the rose cream that will once in every mouthful highlight the sweetness and natural fragrance of the fruit. I like the juxtaposing texture of the soft cream with the crisp almond dacquoise.
But here's where it gets down to a matter of taste, rather than what's 'good' or 'bad'. I'm simply more of rich desserts kind of girl. I like heavy cheesecakes and opulent chocolate ones.
Ultimately, the Strawberry and Watermelon Cake simply wasn't va-voom wow for me. It's Betty and I prefer Veronica.
But sweets aside, I'm more of a savoury fangirl anyway and I loved the Quiche Lorraine ($6). The fluffy yet creamy egg filling was held together in a crisp, crumbly crust and I predict many future returns to try their assortment of other quiches and pies.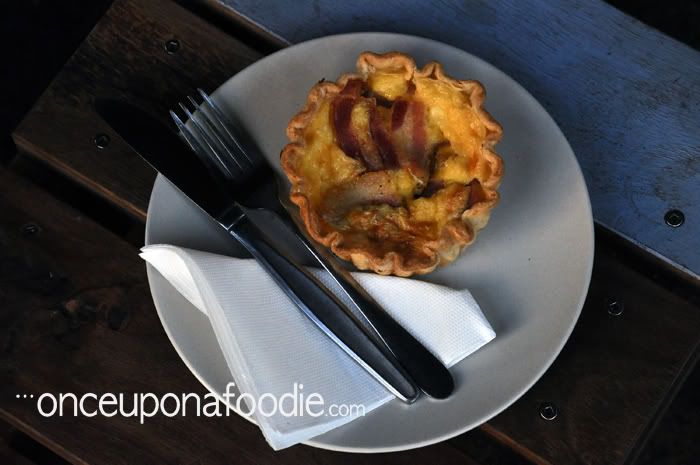 Quiche Lorraine
Black Star Pastry is a small cafe and I imagine on certain weekends, it becomes difficult to find a spot amongst its limited seating. On a breezy Autumn Monday, however, it's nice to be able to pull up a stool outside, drink in the eclectic atmosphere of its Newtown surrounds and watch the suburb's denizens pass by. It's peaceful, really.
Until the sounds of blasting sirens remind you there's a police station just opposite.
---
Excitingly, Black Star Pastry has allowed for its unique Strawberry and Watermelon cake recipe to be reprinted in Gourmet Traveller so you can try it yourself at home!!
---
If you're in the area tomorrow (ANZAC Day), all proceeds from ANZAC biccies will also be donated to Legacy.
---
277 Australia St
Newtown, NSW
Australia, 2042
(02) 9522 5643
Opening hours:
7 days: 7am-5pm